Mayor Sylvester Turner, in partnership with Cheniere Energy, the Astros Foundation, and Project C.U.R.E. today announced a donation drive to collect personal protection equipment (PPE) in support of first responders and municipal employees working in essential functions.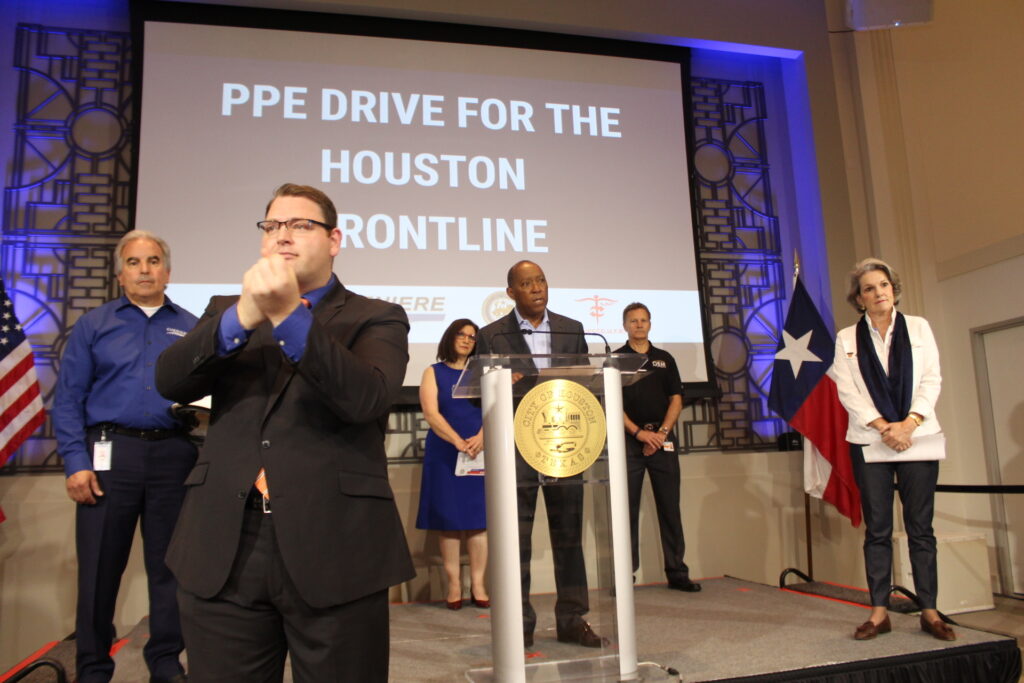 The mayor is asking businesses and individuals to donate new PPEs, including N95 masks, surgical masks, face shields, gloves, surgical and isolation gowns, protective coveralls and shoe covers, and hand sanitizer containing 70 percent alcohol.
The City will distribute all donated items to personnel working at the COVID-19 mobile testing sites, and to first responders, and essential municipal personnel operating the Houston Parks Department Meal Distribution Centers and the Mayor's Office for Homeless Initiatives.
PPE Drive Details
Date: Wednesday, April 8, 2020
Time: Noon – 3 p.m.
Drop-off Location: Minute Maid Park (left field entrance) 
Please use the east curb lane/500 block of Crawford between Texas and Congress
Only unopened packages will be accepted 
"We are grateful to Project C.U.R.E., the Astros Foundation and Cheniere Energy for doing this to help the City of Houston," Mayor Sylvester Turner said. "P.P.E.s help save lives and protect our first responders, municipal employees, and others who are on the front lines of the COVID-19 response. We must work together to flatten the curve and not overwhelm the health care system."
The donation drive drop-off will be a touch-free collection and follow all C.D.C. guidelines. If you cannot drop off your donation in person, please visit ProjectCURE.org to make a donation.
"We are here today to ask for your support to collect protective supplies to give to our doctors, nurses, and first responders throughout Houston. It is our privilege to support their heroic work," said Janet Thomason, Director of National Procurement for Project C.U.R.E. "If you or your organization has an available supply of the items we are collecting, please donate these items. Look in your storage rooms and look in your hearts."
"We are proud to work alongside the City of Houston, as well as our corporate and community partners in this time of great need," said Twila Carter, Executive Director, Astros Foundation. "We are truly #HoustonStrong together."
"Houston is Cheniere's hometown, and the people who are testing us, treating us, and feeding us are our hometown heroes," said Jack Fusco, Cheniere's President, and Chief Executive Officer. "If P.P.E. is vital for us to make our product safely, then we know it is absolutely essential for those who are saving lives and protecting our communities, and we're honored to do our part in supporting these front-line workers."