Design Standards (Chapter 9 & 13 of the Infrastructure Design Manual and the Building Code) impact detention, sheet flow and fill.
The City of Houston is considering recommendations from the City's Redevelopment and Drainage Task Force to Design Standards that will reduce the risk of flood loss for future development and redevelopment.
Existing development will be better protected through Capital Improvement Projects, buyouts, home elevations and demo-rebuilds.   
RECOMMENDATIONS
  DETENTION & FILL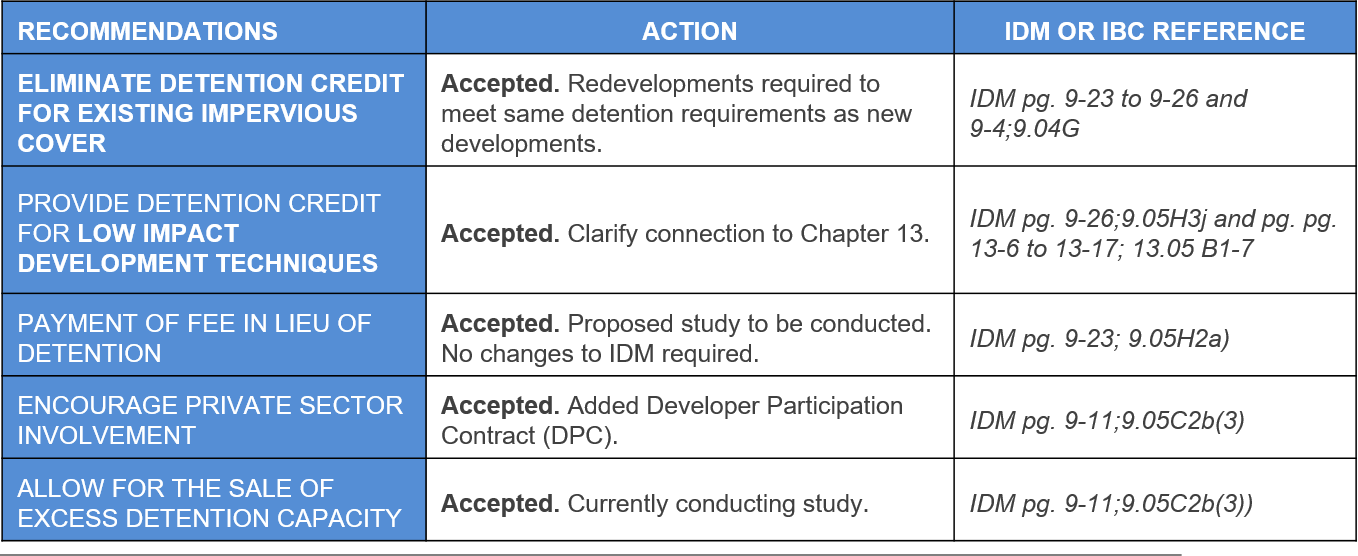 Currently conducting green stormwater infrastructure study, with the support of Houston Endowment, to determine incentives for private sector, including potential future changes to IDM.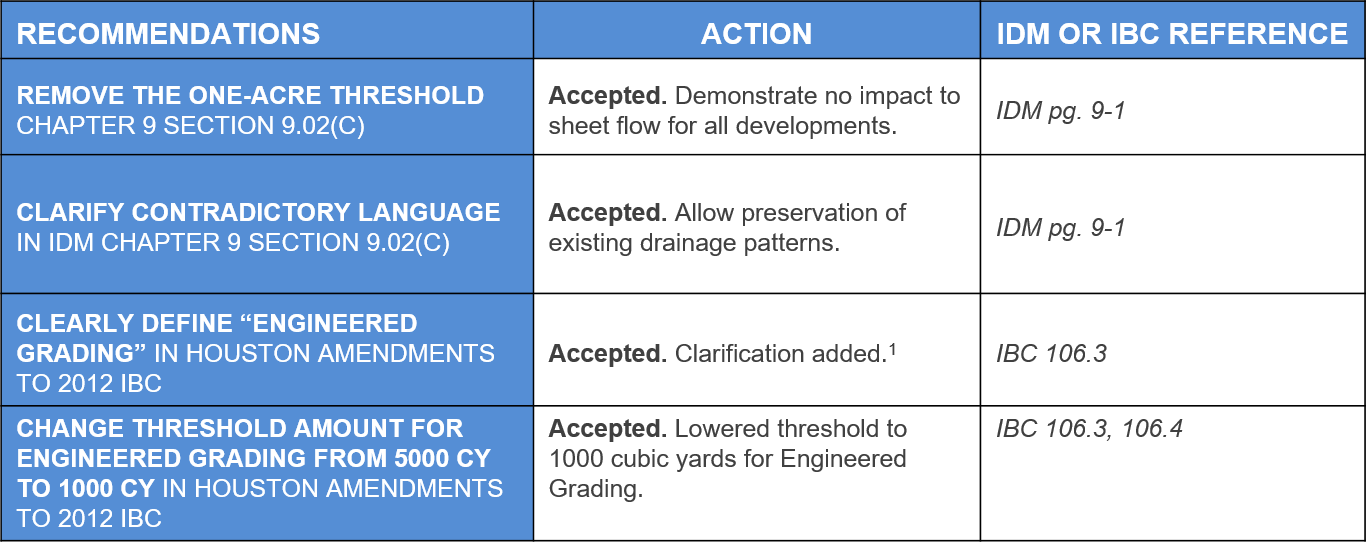 ENCROACHMENTS

PUBLIC INPUT
Public input can be made through:
Online Survey (closes Monday, July 30 @ 5 p.m.)
Open House Meetings
Monday, June 11 | 2-4 PM | Houston Permitting Center, 1002 Washington Ave, Basement Training Room – B2, Houston, TX 77002
Thursday, June 28 | 6-8 PM | Evelyn Rubenstein Jewish Community Center of Houston, 5601 S Braeswood Blvd, Houston, TX 77096
Monday, July 2  | 6-8 PM | Kingwood Community Center, 4102 Rustic Woods Dr, Humble, TX 77345
Wednesday, July 11 | 6-8 PM | VFW Post 8790, 1560 Foley St, Houston, TX 77055
Information Table
Houston Public Works will have an information table at Long-Term Recovery Community Engagement meetings throughout the city on:
Wednesday, June 13 | 6-8 PM | Judson Robinson Sr Community Center, 1422 Ledwicke St, Houston, TX 77029
Monday, June 18 | 6-8 PM | Blackshear Elementary School, 2900 Holman Street, 77004
Tuesday, June 19 | 6:30-8:30 PM | St. Stephen Presbyterian Church, 2217 Theta Street, 77034
Wednesday, June 20 | 6:30-8:30 PM | Westbury High School, 11911 Chimney Rock Rd., 77035
Saturday, June 23 | 10 AM-Noon | Tallowood Baptist Church, 555 Tallowood Road, 77024
Email
– pwe.director@houstontx.gov, or
– contact your local Council Member
FREQUENTLY ASKED QUESTIONS
What is Chapter 9?
Chapter 9 is the Stormwater Design Requirements Chapter of the City of Houston Infrastructure Design Manual. Chapter 9 includes many of the rules for designing public storm sewer systems and private detention ponds.
What is Chapter 13?
Chapter 13 is the Stormwater Quality Design Requirements Chapter of the City of Houston Infrastructure Design Manual. Chapter 13 includes many of the rules ensuring the quality of storm sewer discharge into receiving storm sewers.
What is the International Building Code (IBC)?
The 2012 International Building Code (IBC) and 2006 Houston Amendment are the rules the City has adopted for new buildings and grading (shaping the land).
Why is Houston Public Works recommending changes to Chapter 9 and the Building Code?
Houston Public Works is working to incorporate the Redevelopment and Drainage Task Force Recommendations into the City's existing storm sewer design, drainage and home building requirements to ensure that the City's design standards help to protect new homes from flooding and prevent development from having negative impacts on drainage.
What is the Redevelopment and Drainage Task Force? What are the recommendations?
The Redevelopment and Drainage Task Force, initiated pre-Hurricane Harvey by Chief Resilience Officer Stephen Costello, has worked to address three redevelopment issues: detention; fill; and encroachments in the city right-of-way. Task force membership is comprised of residents, city and county officials, and members of the engineering, architecture, development, real estate, construction, and green communities.
The Task Force's key recommendations include:
Eliminate the detention credit for redevelopment so that redevelopments are required to provide the same amount of detention as new developments
Require all developments (not just those larger than 1 acre) to demonstrate protection of overland sheet flow.
Lower thresholds for the requirement for fill and grade permits and engineered grading plans.
Clarify/Allow sites to be graded to drain to outfalls outside of public Row
For more information about the Task Force and its recommendations, please refer to the Redevelopment and Drainage Task Force Final Report
What is detention? How does detention help reduce flood risk in Houston?
Detention is the storage and slow release of stormwater that drains from the rooftops and pavement of a development. Because rooftops and pavement do not absorb stormwater and cause stormwater to run off (move downhill) more quickly, developed areas have a larger volume and rate of stormwater runoff than undeveloped areas.  To prevent development from making flooding worse, detention can be designed to store stormwater and release it slowly so that a developed site has a similar rate of runoff as an undeveloped site so that the storm sewer system and bayou, creeks, and streams do not overflow because of the development.
Why will ending detention credits for redevelopment help reduce flood risk in Houston?
Detention credits recognize the existing rooftops and pavement that are contributing to runoff from an area that is planned to be redeveloped. Under the current rules, detention is mainly required for additional or new rooftop area or pavement.  Also, redevelopment is required to provide less detention than new developments of the same size.
Requiring redevelopment projects to provide the same amount of detention as new developments will help to reduce the load on City's storm sewer system and ensure that redevelopment does not negatively impact drainage.
Why is protection of sheet flow important for reducing flood risk in Houston?
Sheet flow is the shallow flow of stormwater run-off across gently sloping land to a receiving catch basin, detention pond, bayou, creek or stream. Requiring all developments, regardless of size, to prove that the development is not impacting or impending (blocking or slowing down) sheet flow helps make sure that drainage is not negatively impacted in the area.
Is the City considering elevation requirements for homes outside of the 500-year floodplain?
While the City already has requirements for the height of new homes outside of the 500-year floodplain in its building code, the City is carefully reviewing flooding information to determine if the existing requirements adequately protect structures.  Based on review of all available flooding information, the City may recommend a change to these requirements in the future.
Will I have to elevate my existing home?
Right now, there are no proposed changes to elevation requirements outside of the 500-year floodplain. If a change is made in the future, only new homes will be affected by any change to the minimum home elevation rules.
If these changes are approved, when will they take effect?
If the changes are approved, starting September 1, 2018, new plans submitted to the City for approval will be reviewed based on the new rules. Any plans submitted prior to September 1st will be approved and constructed based on the old rules.
RESOURCES
Design Standards Summary with FAQs
Design Standards Survey
Timeline
TTI Presentation
Task Force Report
Chapter 9 Redline
Chapter 13 Redline
Building Code Redline